Hailstorm 7/16/09
Around 5pm on Thursday, July 16, 2009, a severe thunderstorm moved northward through Westford, bringing hail to much of the town. Some locations had large quantities of smaller hail, while others locations had smaller quantities of large hail, and still others had a mix of both. The hail caused damage such as broken windows and screens, damaged siding, dented cars and broken windshields, and decimated gardens. The largest hailstones were over 3 inches in diameter.
Hail forms in a thunderstorm around a nucleus, such as a piece of dust. As the updrafts in the storm push the nucleus into the supercooled water in the cloud, ice begins to form around the nucleus. When the updraft can no longer kept the hail aloft, it will fall through the cloud. If it encounters another updraft strong enough to lift it back up through the cloud, it will accumulate more ice. This will continue until the hail stone is too large for any of the updrafts, and it will then fall to the ground.
In Vermont, most of the hail that occurs is small, around 1/2" in diameter or less. Occasionally, there will be a storm that produces hail greater than 1" diameter. Rarely do we see storms with hail of 2" or more in diameter, and it's practically unheard of to get hail 3" or greater in diameter in Vermont. This is much more common in the plains and midwest where the storms are larger and stronger.
The National Weather Service in Burlington has a write-up of the severe weather of this day here.
Radar Animation

Animation of Composite Reflectivity - Purple is very strong reflectivity due to hail
Video by Shawn Saucier - Cambridge Rd
Pictures by Chuck McGill - Penny Ln
Pictures by Caroline Brown - Huntley Rd
Picture by Chet Balon - Mountain Rd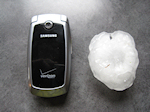 Pictures by Dave Strippe - Forest Ln
Picture by Debbie Thomas - Forest Ln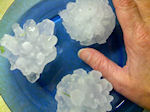 Picture by Dick Lavallee - Old #11 Rd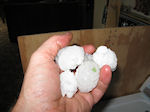 Pictures by Ed Chase - Covey Rd
Pictures by Jake Cady - Birch Ridge Rd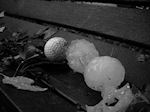 Picture by Jenny Hughes - Brookside Rd/Pettingill Rd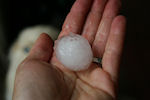 Pictures by Kathy Sawyer - Cambridge Rd
Pictures by Mark Winer - Rollin Irish Rd
Pictures by Matt Wamsganz - Snow Hill Ln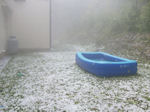 Picture by Sarah Himes - Birch Ridge Rd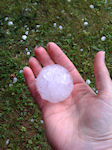 Pictures Brian Pardy - Delfino Rd (on the Westford town line behind Adams Turkey Farm), Milton
Picture by Jon Fick - Huntley Rd